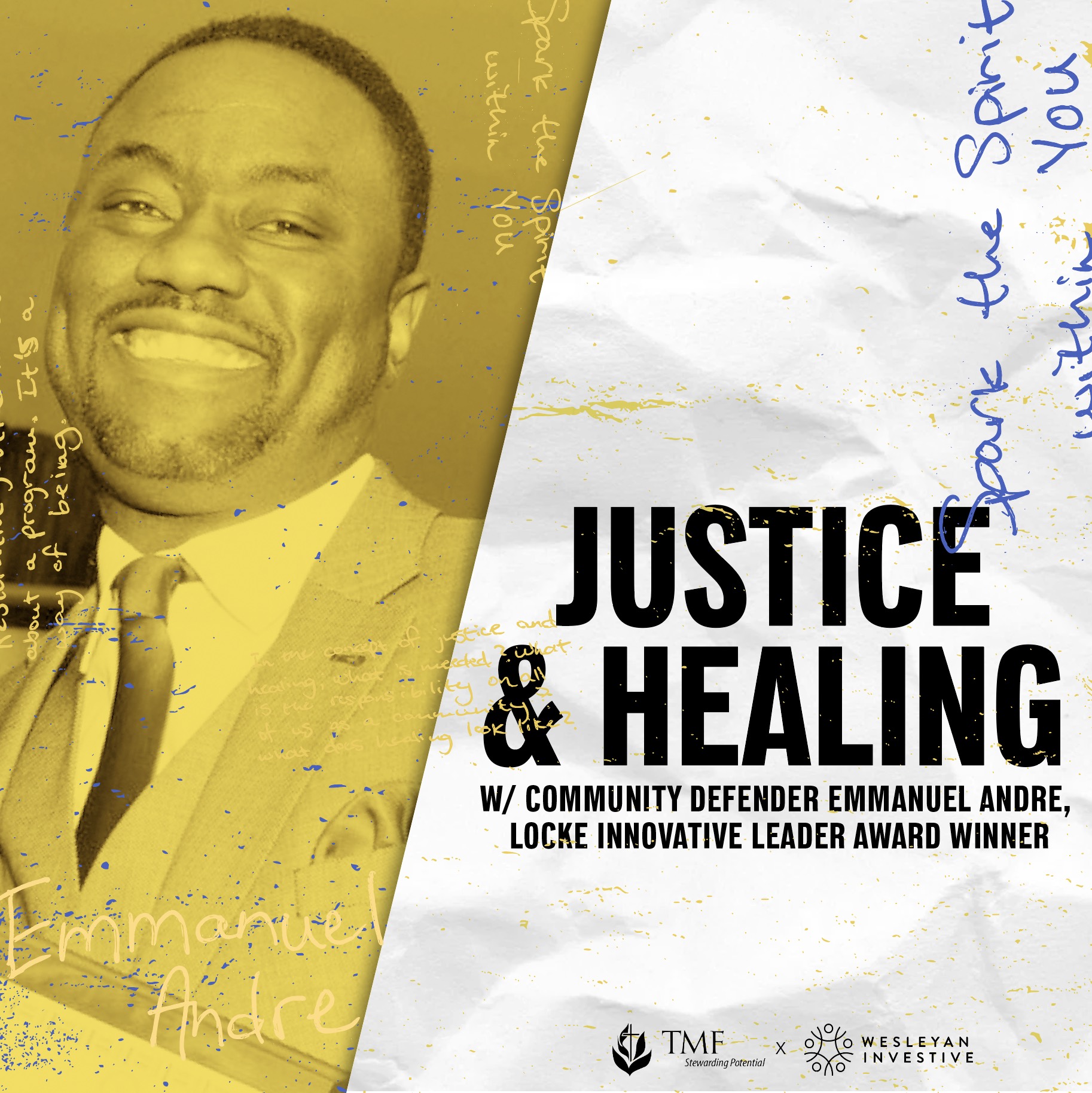 Co-hosts Lisa Greenwood and Casper ter Kuile talk with Emmanuel Andre, 2021 Locke Innovative Leader Award Winner. Emmanuel prefers to be known as a "Community Defender" instead of a "Defense Attorney," which says a lot about his approach to his work both inside and outside the courtroom. Restorative justice is more than a program. It is a way of being to Emmanuel, who believes transformation is possible if love is offered unconditionally while walking alongside another.
Emmanuel's non-profit organization Circles and Ciphers walks alongside young people impacted by violence through hip-hop and art-based peace circles that provide space for conversations and community support to promote healing from trauma. Emmanuel's story of how the church has walked alongside him from his childhood until now is a testimony to the church's power to make a positive difference in the lives of individuals and communities. This conversation is simply inspirational from beginning to end and invites us all to consider our responsibility to create spaces where hope and healing can flourish and those who feel unseen can find friends.
QUOTES
"It's about relationships, not transactions." -Emmanuel Andre [18:42]

"There is something that happens when you're willing to be uncomfortable and stay in relationship with. It's that idea of walking with that continues to happen." -Emmanuel Andre [30:58]
TIMESTAMPS
[00:00] Intro

[00:39] Final observation about these conversations

[01:31] Meet Emmanuel Andre

[04:47] Significant events in Emmanuel's life

[08:36] The power of the community

[15:28] What is justice and how it pairs with healing

[23:56] Leaning into the pain

[28:11] Circles and Ciphers

[33:04] His partnership with the Church

[38:10] Three rapid fire questions

[43:49] A blessing

[45:26] Outro
RESOURCES & RELEVANT LINKS
If you enjoy the podcast, would you please consider leaving a short review on Apple Podcasts / iTunes?
For information about our co-host Casper ter Kuile, visit his website: caspertk.com and check out the work of Sacred Design Lab at sacred.design.
Find and follow the Northside Transformative Law Center on their website: northsidetlc.com, on Facebook @ Northside-Transformative-Law-Center and Twitter @LawNorthside
Find and Follow Circles and Ciphers on their website: circlesandciphers.org, on Facebook, Instagram, or Twitter @CirclesAndCiphers
This season features Wesleyan Investive's 2021 Tom Locke Innovative Award winners. The award honors spiritual entrepreneurs who have envisioned a broader mission field and have taken risks to make their God-sized dreams a reality. For more information about the award and the recipients, visit award.wesleyaninvestive.org.
"God Has Work for Us To Do" music and lyrics by Mark Miller. Visit Mark's website at markamillermusic.com or find him on YouTube at youtube.com/c/markismusic67.
This podcast is brought to you by the Leadership Ministry team at TMF and Wesleyan Investive. Leadership Ministry connects diverse, high capacity leaders in conversations and environments that create a network of courage, learning, and innovation in order to help the church lean into its God-appointed mission. For more information and to support Leadership Ministry, visit tmf-fdn.org/leadership-ministry.